By: Devan Kaney
"Shall we begin?"
Game of Thrones opened its seventh season with a bang – or should I say, a thump – as dozens of House Frey men dropped dead thanks to Westeros' newest faceless assassin, Arya Stark (Maisie Williams).
The cold open set the tone for the rest of the premiere episode, and if ep. one is any indication of how season seven will go, it's clear the women of Westeros are not messing around.
While Arya seeks to avenge her family, her older sister, Sansa Stark (Sophie Turner), is ruthlessly determined to restore the Starks power in the North. Jaded by all of the wrongs done to her at the hands of men, Sansa seems to be bristling on the edge of…well we aren't really sure. In her scene with Jon Snow (Kit Harington) Sansa drew eerie parallels to Cersei Lannister (Lena Headey). Observant viewers also noticed Sansa rocking the same iconic hairstyle Cersei wore throughout the early seasons of the show. Foreshadowing much?
But if that wasn't enough to get people talking, showrunners had to put Ed Sheeran in the show. As a GoT super fan, I know several semi-famous musicians have made cameo's before (Gary Lightbody, Sigur Ros, Of Monsters and Men just to name a few), but Sheeran's appearance was a bit much. As one of my friends described it, "one of the worst moments in Game of Thrones history." Diehard fans of Thrones were not pleased with the moment. A big reason GoT has been such a massive success is because – like most fantasy – It helps us escape to another world (or realm, I should say), and Sheeran's cameo brought us back to reality. Every fellow GoT fan I have discussed S7:Ep1 agrees – we could have done without the Sheeran cameo.
Now let's talk about Sandor 'The Hound' Clegane (Rory McCann). McCann deserves every accolade for his portrayal of this complex character. The Hound has made one of the greatest character transformations over the seasons. Most chatter I've read about Clegane suspects he is the Prince That Was Promised, or Azor Ahai – prophesized savior to the Lord of Light religion. However, I have a different theory. As a big fan of the books, I – like many other readers – have been anxiously awaiting the on-screen debut of Lady Stoneheart. For those who don't know, Stoneheart is Catelyn Stark resurrected from the dead and leading the Brotherhood Without Banners. In the books, the Brotherhood helps Stoneheart hang anyone who has wronged her and her family. So as The Hound travels with the Brotherhood Without Banners, I can't help but wonder if Stoneheart will make an appearance. But that could just be wishful thinking.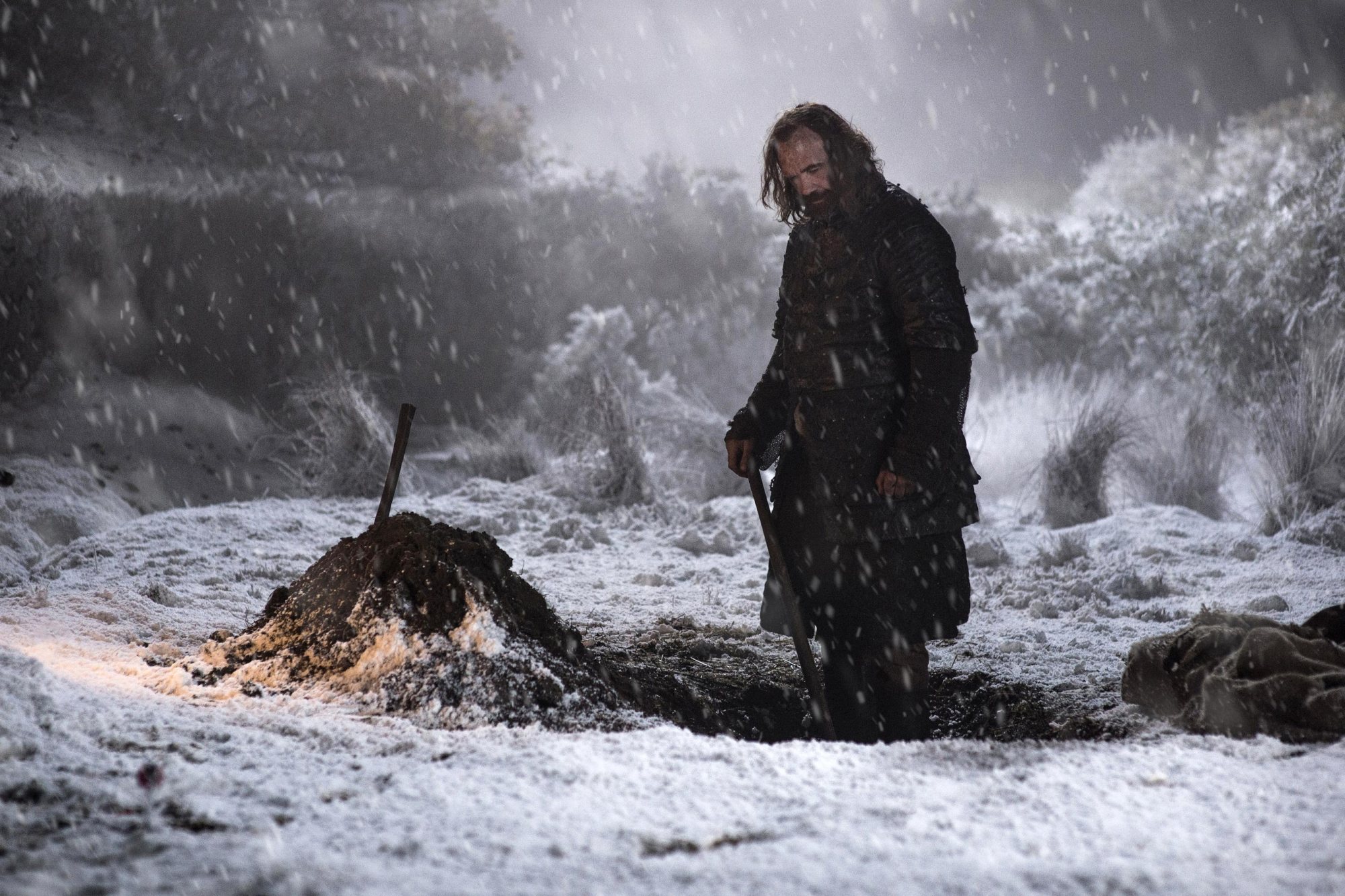 Which leads me to another character who has grown to be one of my favorites: Jaime Lannister (Nikolaj Coster-Waldau). Over the past two seasons, Jaime has grown increasingly weary of his sister and love, Cersei. We know Jaime was willing to sacrifice his reputation to save the Seven Kingdoms before, and I have a feeling we could see it again when things come to a head in Westeros.
As Euron Greyjoy (Pilou Asbaek – no that is not Joshua Jackson) enters the picture in King's Landing, it's clear he is to be the central antagonist of the season. Seeming a bit mad, he promises to bring Cersei 'a gift' to earn her trust. A very ominous promise from someone who murdered his own uncle. I have a sneaking suspicion this gift involves Tyrion Lannister (Peter Dinklage).
Now to the Citadel. All of the feces, urine, and other unpleasant bodily functions are distracting from the big moment here – Jorah Mormont (Iain Glen) is a patient at the Citadel! How he made it there on foot before Dany arrived at Dragonstone with a fleet of a thousand ships is beyond me, but I guess you can't fix every plot-hole. His Greyscale has spread quite a bit. Quite honestly, as far as theories go, I'm at a loss with Mormont's storyline. I assumed writers would pull a Gendry on him and just never mentioned his existence again. Which reminds me – WHERE IS GENDRY? Is he still rowing his boat? Perhaps he has teamed up with Lady Stoneheart and all of the other forgotten characters and they are just floating on the Narrow Sea, waiting for someone to remember they exist.
And lastly, Daenerys finally makes it home. I was so pleasantly surprised with the way this scene ultimately played out. I have been waiting for Daenerys Targaryen (Emilia Clarke) to make her way back to Westeros for years. Somehow, I always imagined it would involve her dragons lighting all of King's Landing on fire, but her silent arrival reflected the gravity of the moment. And that last line was the most perfect way to end the season seven premiere. Yes, Dany, please begin to run sh*t in the Seven Kingdoms.
Overall, the season seven premiere was powerful and focused. While nothing monumental happened, it was pivotal that the second-to-last season of the fantastic show hit the ground running. "Dragonstone" was the epic start to the end of Game of Thrones.
Rating: 4.9/5 stars (0.1 subtracted for Ed Sheeran cameo)